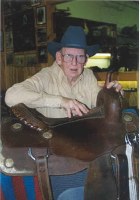 Don Atkinson
1929 - 2015
Legendary Saddle Maker
BY: LIN SUTHERLAND
Article originally appearing in the Spring 1998 "PERSIMMON HILL"
the official publication of the Cowboy Hall of Fame in Oklahoma City
In a circle of western art and curio shops in the tiny Hill Country town of Ingram, Texas, a visitor passes a shop window and glances in. Whoa! What is that?
In full view is a handmade $10,000 saddle with inlaid silver and gold, fully tooled in a rose pattern. Behind it are shelves of some of the most eye-caching boots You've ever seen hand made in the old style - in forest green, wine, and butter hues.
The visitor has stumbled onto the shop of legendary boot and saddle maker Don Atkinson. Now in his seventies ,Atkinson's career began as , a nine-year-old boy in Trenton, Missouri, when he gazed into the window of Monroe Veach's renown Saddle and boot shop.
Veach had designed and made the first quarter horse saddle, called the Fred Lowery Roper. When Veach saw the young boy's big eye's, he walked outside and inquired what he might do for young Don. The boy replied shyly he would like to make a holster for his cap gun.
Veach gave the little cowboy some leather and instructions and told him to come back when he was finished, When the young Don Atkinson returned with the finished job, Veach saw a talent in the raw, He invited Don to come to the shop each day after school for odd jobs and to learn the art of working leather.
That was the beginning of a successful career of saddle making that would make that boy a legend in,: his own right. By the age of 12 Don Atkinson had made his own first saddle.
During his apprenticeship, Don also learned about the rodeo circuit. Veach and his son dad a rodeo company and the took young Don along with them, Soon he was riding bulls and broncs throughout Texas, Oklahoma , Missouri, Iowa, Kansas, Idaho, Utah and Nebraska.
At the age of 18, Don opened his first Saddle shop in Pawhuska Ok. deep in the heart of ranching and rodeo cowboy country. Word spread quickly about Don's work, Not only did he learn more about bulls and broncs, but he also made friends with some famous cowboys- Slim Pickens, Clem McSapadden, and Larry Mahan .
Don is proud of all his work , but counts these as his masterpieces

A pair of boots that were displayed for years in the Gene Autry Museum of Western Heritage on Los Angles, but are now on loan and are exhibited at the University of Wyoming, in Laramie.

The Todd Whatley Memorial Saddle he designed and made for the RCA National Finials Rodeo in 1967. That saddle was won by Larry Mahan and has since been placed in the National Cowboy Hall of Fame. Mahan and Don have remained friends for 30 years.

The trophy saddle for his friend Clem McSpadden's "Worlds Richest Roping" in 1983.

All the trophy saddles for the European Rodeo Association in Germany for 7 years.
Don's work has been shipped to all 50 states, as will as Sweden, Switzerland, Austria, and Britain. As the saddle maker himself put it,
"I don't cut any corners on my work." He uses only the best quality leather and puts plenty of time in his creations.
In 1985, Don moved to Ingram, where he lives and works. Visitors come to his shop get a warm, laid-back cowboy welcome. And while he is working on anything from a $65 belt to $10,000 saddle, he will tell you a good story too. People from all over the world come to visit and see his work or commission a belt, saddle, pair of chaps, or boots to be made.
Some even wander into his saddle shop, unaware of a legend - just as he did when he was a nine-year-old boy.
Copyright 2005 - 2016 American Saddle Makers Association, Inc.