DALE HARWOOD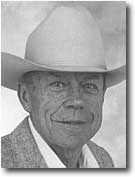 It has been said that working cowboys and collectors will often wait years to own a saddle made by Dale Harwood, who is considered by many to be one of the greatest living saddlemakers. He has been in the saddle making business for more than 50 years. As a young man, Harwood learned the basics of his art in a shop in Soda Springs, Idaho.
Three or four years into his trade, he moved - lock, stock, and saddle trees - to Idaho Falls to open a small shop, which he maintained until 1982, when he moved his saddle and tree shop to his home on an acreage outside of Idaho Falls. From start to finish, Harwood controls the quality of his saddles. He creates the saddle from the tree out, even creating his own engraved silver.
His work is in demand by horsemen around the world and has been exhibited at the Cowboy Poetry Gathering in Elko, Nevada, where he received "Best of Show" in 1997, and at Trappings of the American West in Flagstaff, Arizona.
Copyright 2005 American Saddle Makers Association, Inc.