RICK BEAN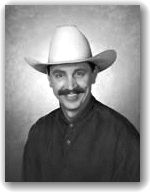 Twenty some years ago a cousin of mine took a girl in my sophomore class on a date. She was surprised to learn that he and I were related. "Yes, I know Rick," she said. "In fact, I sit next to him in English. But I don't know how he's ever going to pass because all he ever does is draw pictures of saddles."
That was a long time ago, and I'm still drawing pictures of saddles and designs to carve on them. I was born in 1961, the last of six kids. My parents ranched on the side and both held outside jobs. When I was twelve, my parents gave me a Tandy leather kit for Christmas, which was right up my alley. The kit ran out quickly, but fortunately, our neighbors were saddlemakers. I started hanging around the Penny's saddle shop, and was eventually put to work. I worked at Penny's every day after school, and sometimes when I was "supposed" to be in school. I learned the fundamentals of saddle making there, and I built my first saddle with Gary Penny when I was fifteen. I knew with certainty at that time that I would be a saddlemaker for the rest of my life. R.C. Bean Saddlery was founded in 1978 when I was seventeen.
Back then my family also raised draft horses, and I learned to build harness. My reputation as a harness maker was soon well known and my business thrived. Saddle orders began to trickle in and my customers were thrilled with my work-especially the extra details I always added. I had always loved to draw, and a new form of art had entered my life. The designing, sculpting, carving, and sewing involved in making an awesome saddle proved to be very challenging, but very rewarding.
As my business grew, I began to stock a selection of retail items. As I added more and more inventory, the retail business continued to grow, but I had less time to concentrate on my true love, saddles. The retail business has continued to grow, and my brother Bob and my wife Kristie, take care of it. I am content to stay in my shop, which is now in the middle of our house, and build saddles.
Copyright 2005 American Saddle Makers Association, Inc.