STEVE MECUM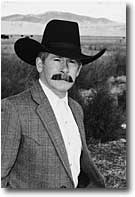 "For more than thirty years now, I've lived around the Crowheart, Wyoming area. In those years, I've guided people from all over the world through the Wyoming high country, cowboyed in the foothills and prairies and started between 700-800 young hourses in the process," Mecum relates. "These experiences have, out of necessity, sparked a keen interest in the tools of the trade, the foremost being the saddle and how to build it better, stronger, more comfortable for the horse and rider as well as pleasing to the eye.
"In 1986, Bob Douglas of Sheridan, Wyoming, taught me to build saddles. Since the early 1980's, 80 percent of my income has been from the saddle business. I have always appreciated smooth, clean work and while my carving is largely self-taught, I have been influenced by Don King and with much appreciated advice from Chas Weldon and Dale Harwood," he said.
He was invited by Jeremiah Watt to display a saddle at the 1994 Cowboy Poetry Gathering in Elko, Nevada. In 1996, he was nominated for "Outstanding Excellence in the Western Arts" for the Will Rogers Cowboy Awards by the Academy of Western Artists. In 1997, he was again invited to display a saddle at Elko and his work was voted third place in the "Best of Show," behind Dale Harwood and Chuck Stormes. In 1999, he received the "Best of Show" award at the 13th Annual Trappings of Texas show in Alpine.
Copyright 2005 American Saddle Makers Association, Inc.