TROY WEST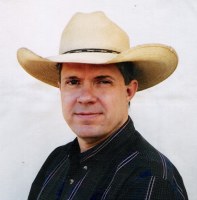 Troy West grew up roping, rodeoing and helping friends and neighbors work their cattle. At the age of 18, he moved to Amarillo, Texas where he built his first saddle. For more than 28 years he has made his living as a saddlemaker. Currently he resides in Center, Texas with his wife and five children, where he works out of a shop at his home, building saddles and creating his own silver.
In 2000 his saddle won Best of Show at the annual Boot and Saddlemaker Roundup in Wichita Falls, Texas. This is an award that is voted on by fellow saddlemakers from across the nation. He won again in 2002, 2003 and 2007.
In 2001, he was commissioned by the Texas Federation of Young Republicans to build a saddle for President George W. Bush.
In 2007 he was commissioned by the 100th National Western Stock Show in Denver, Colorado as one of only four saddlemakers chosen from across the United States to build a special saddle to be shown and auctioned off. This saddle auctioned off for $20,000.
Troy is an artist at heart and loves to create unique, one-of-a-kind pieces whether it be a saddle or a hand-crafted silver buckle. He loves to study the works of great saddlemakers and silversmiths of the past and present to learn from them so that he might improve his own work. Troy believes that a saddle must first be functional, it must be comfortable to the rider and fit the horse. The outer embellishments do not matter if these requirements are not met. Once they are met, then one must strive for the highest standards of beauty in quality materials and workmanship.
Copyright 2005 American Saddle Makers Association, Inc.