VERLANE DESGRANGE
1949 - 2007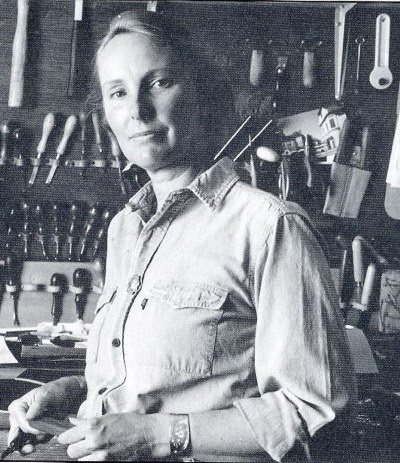 One of A.S.M.A 'S founders
A longtime resident of Cody, she came to Wyoming from Daytona Beach, Fla., in 1973 at age 24. She graduated with a B.A. in constructive design from Florida State University where she earned scholarships from the National Teachers' Association and Daughters of the American Revolution.
In Wyoming she apprenticed to master Western saddle maker Cliff Ketchum of Ralston and former U.S. Cavalry saddler Hamp Brand, also of Ralston. In 1986 her growing interest in English equestrian equipment and dressage led her to Portland, Ore., where she continued her studies with Hans Biglazar.
She ran the South Fork Saddle Shop, building saddles and making bridles, chaps, purses and all manner of tack for local residents and clients throughout the country.
An exceptionally creative craftsperson, she won many awards for her work including the prestigious Al Stohlman Award for Lifetime Achievement in Leather Craft (2006), for which she received additional recognition from Sen. Mike Enzi and the Wyoming Arts Council. WAC also nominated her this spring for the Ford Foundation's USA Artists Award.
Creating fresh interpretations of historical saddles and bridles was one of her passions as was her free-form floral leather carving which took the art of decorative leather design to a new level of artistry. Her work was featured in many prominent publications such as Southwest Art, Persimmon Hill, Western Horseman, Leather Crafters and Saddlers Journal, and the Crafts Report, as well as books such as Crafts in America (1992), Saddles, Bits and Spurs (1992) and Saddle Making in Wyoming (1993).
In addition to work in saddlery and leather craft, Verlane had a significant career in teaching, starting with evening classes at Northwest College and culminating at Spokane Falls Community College in Washington where she resurrected the last formal school of saddle making in the country.
A prolific writer of saddle making "how to" books for her students and other professionals, Verlane published numerous booklets on saddle making, leather work, leather care, saddle fitting and the ergonomics of accommodating rider to horse.
Because of her extensive experience, Verlane was asked to serve as an expert witness in several court cases involving leather quality and equipment safety. She gave many saddle fitting clinics, workshops and seminars locally and as far away as California.
Copyright 2007 American Saddle Makers Association, Inc.