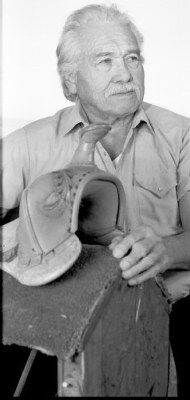 MERVIN RINGLERO
Master Saddlemaker
August 6, 1917 - November 2, 2009
Mervin Ringlero was a native of Arizona, born in Lehi bordering Mesa on the Salt River Pima-Maricopa reservation on August 6, 1917. He was the first-born son of Luis Pasmado Ringlero, Sr. (Cahuilla) and Juana Valenzuela (Pima/Tohono O'odam). He grew up in Phoenix and southern California on the Soboba Mission Indian Reservation near San Jacinto. He attended Monroe School, Phoenix Indian School, and Sherman Indian School near Riverside. He received a football scholarship to Santa Clara University but decided to join his father from who he learned the art of saddlemaking. He apprenticed at the Porter Saddle Company, Phoenix, from 1937 till the start of the war.
Ringlero enlisted in 1940, and served in the Canadian-US "Devil's Brigade," 1st Special Services Force, an elite combat unit. He fought in Italy, Africa, France, and was a part of the D-Day invasion forces at Utah Beach, Normandy, France. Ringlero aided in the liberation of two concentration camps, Dachau and Bergen-Belsen, Germany. He served in the Army's mounted cavalry, a historical presence when horses were still vital to the armed service before artillery mechanization. Ringlero was a member of the 7th U.S. Cavalry, the "Garry Owen" company made famous at the Battle of the Little Big Horn in 1876. His military commendations include Bronze Star, American Defense Service Medal, European-African Campaign Medal, WWII Victory Medal, and Combat Infantryman badge and 1st award.
Ringlero returned to saddlemaking after the war. With his family, he moved to Van Nuys, California in 1952, working for the San Fernando Valley Saddlery, Panorama City. His reputation for unique, one of a kind, hand-tooled custom saddles quickly spread to the motion picture industry. Ringlero's exquisite leatherwork and superior craftsmanship translated in the production of saddles for notables in the entertainment and equine industries. Some of his clients included Gary Cooper, Walt Disney, Kareem Abdul-Jabbar, Randy Travis, John Denver, Rex Allen, Richard Boone, Dale Robertson, Monty Montana, John Derek, Bruce Boxleitner, Clint Walker, Chuck Connors, Glenn Ford, horse trainer, Jimmy Williams, and Mr. Ed, the talking horse.
Ringlero's artistry set him apart and distinguished the standard for saddlery that many examples are found in museum collections of the Autry Western Heritage Center, Los Angeles, Cowboy Hall of Fame, Oklahoma, Museum of the American Cowboy, Colorado Springs, Rex Allen Museum, Benson, Arizona, and the estate of Walt Disney. In April 1992, Ringlero's saddles were exhibited at the Smithsonian Institution, National Museum of Natural History, Washington, D.C. He was designated an Arizona Indian Living Treasure in 1991 by the Governor of Arizona.
Copyright 2007 American Saddle Makers Association, Inc.