Weight gain or loss will effect how a saddle fits. How this effects the saddle fit will depend upon the individual horse and saddle. Weight gain or loss and fitness are closely related as fitness level can effect weight gain or loss.
The English discipline addresses this factor in the basic design of the saddle. A traditionally build English saddle is designed with a flocked panel providing an interface between the saddletree and the horse's back. This flocked panel allows the saddler to add, subtract, or rearrange the flocking with in the panel to fine-tune the fit and balance of the saddle. In the western discipline this is accomplished with saddle blankets and pads.
In general, weight gain or loss in the wither or saddle pocket area may cause the existing saddle to ride higher or lower on the withers. How the weight gain or loss manifests itself will depend on the individual horse.
Possible problems could be:
Pinching at the point where the swell meets the bar. (FIGURE 1 and exhibit A)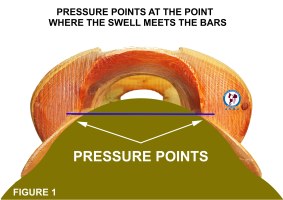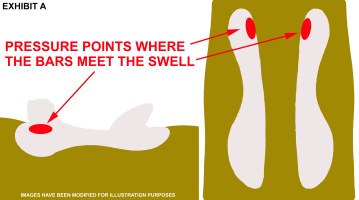 Pinching at the bottom of the bar. (FIGURE 2 and exhibit B)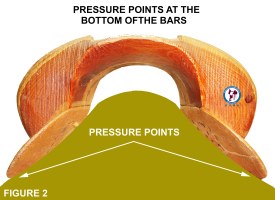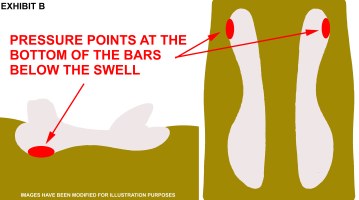 The bottom of the swell rubbing the top of the wither. (FIGURE 3 and exhibit C)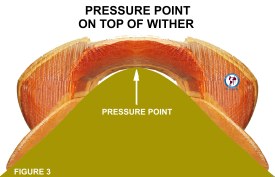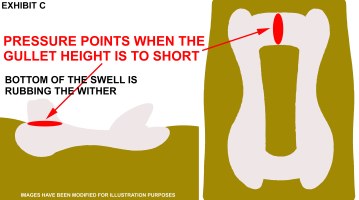 Also, with weight gain or loss there may be a change in the top-line. If the top line becomes flatter, the topline will have less rock than the
rock
in the bars of the existing saddle. This causes the saddle to "rock" and to place more and unequal weight and pressure in the center of the saddle.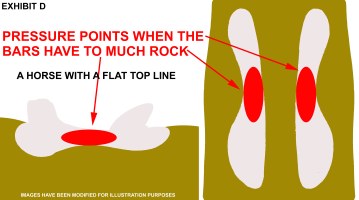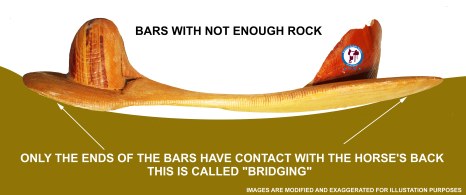 If the top line drops, more rock will be added to the top-line and the existing saddle then may "bridge". "Bridging" means that the curve in the horse's back is greater than the
rock
(curve) in the bars of the existing saddle and only the ends of the bars have contact with the horse's back resulting in four pressure points.