The near side or on side latigo/tie strap is cut from 9/10 oz or heavier premium latigo leather at the desired width and 72 inches or 6 feet long. The most common widths are 1 1/2", 1 3/4", and 2" with 1 3/4" the most popular.
STANDARDS AND PRACTICES: ASMA recommends that leather latigos/tie straps and half-breed latigos should be made from 9/10 oz or heavier premium latigo leather for safety. Also, it is recommended that no latigos/tie and half-breed straps should be used that are less than 1 1/2" in width, with the exception of a pony saddle that is used on a small pony. If the pony saddle is to be used on a regular size horse, a standard latigo/tie strap should be used.

The ends of the latigo/tie strap are finished to your preference ( see Figure 1 for examples ).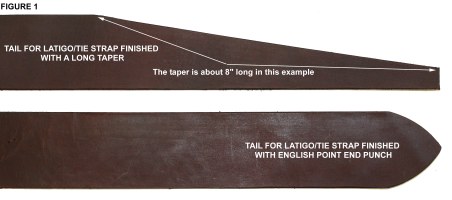 Once the ends are finished the latigo/tie strap may be edged, edges rubbed and dyed at your option.
A latigo/tie strap that has been edged has a more comfortable feel for the rider when cinching up their saddle.
The holes for the cinch buckle start at 21" from the tip and are spaced 3" apart for 9 holes. The holes for the tie are in the shape of a triangle as shown in Figure 2.
The latigo/tie strap is attached to the rigging dee or plate with a 3/8" X 12" latigo tie with the most popular illustrated in Figures 3 and 4.