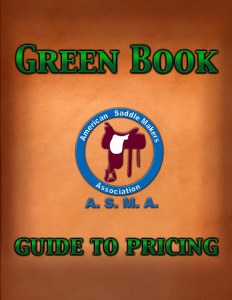 ON-LINE GREEN BOOK
WESTERN SADDLES & TACK
SECTION
THE PRICING DATA IS UPDATED ON A YEARLY BASIS
BETWEEN JAN AND APRIL AS PRICE LISTS BECOME AVAILABLE,
UNLESS A MAJOR CHANGE IN PRICES IS NOTED
TABLE OF CONTENTS
PAGE NAVIGATION CLICK ON YOUR AREA OF INTEREST

The information contained herein is a joint venture of ASMA and Pikes Peak Saddlery, Inc.
This information is copyrighted by all parties and may not be reproduced in any fashion without written permission.
Copyright 2005 - 2016 American Saddle Makers Association, Inc.