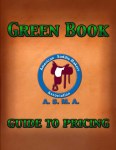 WESTERN TACK REPAIRS
TABLE OF CONTENTS

The unending combinations of western tack due to the various types of leather, hardware, designs and construction methods makes it impossible to list all repairs. We have listed the repairs that seem to be the most common. Each saddle maker will have to adjust the data to fit his or her level of experience and purchasing methods. Also, the data is based on an average repair, and depending on the actual item to be repaired additional time and material costs may be encountered when difficulties arise. The purpose of this section is designed to give you a reference point.

SECTION TABLE OF CONTENTS
PAGE NAVIGATION SCROLL DOWN OR CLICK ON YOUR AREA OF INTEREST

Copyright 2010 American Saddle Makers Association, Inc.